ATTDX Caffeine EyeDepuffing LiftingCream
You've always wanted to look younger, and now you can! Introducing ATTDX Caffeine EyeDepuffing LiftingCream– the perfect solution that is clinically proven to reduce the appearance of drooping eyelids & wrinkles in the eye area! Say goodbye to tired, dull eyes, and hello to brighter, more youthful-looking skin with ATTDX!
See what our happy customers have to say about our product.
"This ATTDX Caffeine EyeDepuffing LiftingCream works great. I've noticed a difference in the appearance of my eyes. The dark circles and puffiness are significantly reduced, and my overall skin tone and brightness are more even. What I love about this product is that it's not just an eye cream, it's for the entire face. It's a complete anti-aging solution for women who want to reduce the signs of aging on the delicate skin around their eyes. I would recommend this product to anyone looking for a quality anti-aging product."—Fiona Coleman—Birmingham, Alabama
"I started seeing signs of aging on my face and one of which was under eye bags. It was a little bit annoying because I could not really see myself using an eye cream. I mean come on; we are only in our late 20s. But I thought why not give it a try and see if it works? I got this product from ATTDX Caffeine EyeDepuffing LiftingCream and so far, the results were quite good! My eye bags became less obvious after 2 weeks of using this product."—Bernadette Patterson— Crawfordsville, Indiana
Reduce signs of aging with ATTDX Caffeine EyeDepuffing LiftingCream, a highly effective solution for the eye area. This advanced cream reduces fine lines and wrinkles, eyelid puffiness, dark spots, and dullness to leave the eye area looking fresh and youthful with a revitalized glow. Formulated with potent ingredients including Caffeine, Kojic Acid, and Bifida Ferment Lysate, it also promotes collagen production and accelerates skin cell turnover.
Clinically proven to effectively remove dark circles and eye bags.
ATTDX Caffeine EyeDepuffing LiftingCream is an essential addition to any skincare routine. This powerhouse eye cream supports collagen production, improves skin cell turnover, and helps firm the skin, resulting in a more youthful and revitalized appearance. Dr. Martinez, a board-certified dermatologist with over 10 years of experience, highly recommends it as an effective solution for those struggling with dark circles and puffiness around the eyes. 
What is the cause of eyelid puffiness and under-eye bags?
The appearance of dark circles under the eyes is not solely the result of melanin, a pigment that determines skin color. Another significant reason is leakage in the capillaries beneath the skin, which can occur due to various factors such as low levels of Vitamin K or stress. When blood leaks from these capillaries, it spreads out under the skin and becomes oxidized, resulting in a dark purple color that shows through and creates a distinct appearance known as dark circles.
The appearance of bags under the eyes is due to weakening tissue and supporting muscles of the eyelids. The skin surrounding the eyes may begin to sag, as well as fat that usually supports the eye moving beneath which can cause puffiness or swelling. Fluid accumulation in this space is also common. ATTDX Caffeine EyeDepuffing LiftingCream is a powerful formula that works to address the appearance of dark circles, bags, and puffiness under the eye area. It's specifically formulated to help reduce the look of puffiness and dark circles in minutes and provide long-lasting relief. 
How Does ATTDX Caffeine EyeDepuffing LiftingCream Works?
Lift your eyes up with ATTDX Caffeine EyeDepuffing LiftingCream! This powerful anti-aging eye cream boasts a remarkable lifting effect, which effectively reduces the appearance of wrinkles and expression lines. Formulated with kojic acid and caffeine, it helps to minimize the appearance of dark circles and puffiness around the delicate eye area. Additionally, it aids in achieving plumped, healed, and hydrated skin that is more elastic for a youthful and radiant complexion.
Consists Of 3 Powerful Ingredients to Reduce Under Eye Puffiness & Dark Circles:
Caffeine
Kojic Acid
Bifida Ferment Lysate
Bifida Ferment Lysate is a probiotic derived through the fermentation of Bifida. Research shows that it protects the skin against damage caused by UV light exposure, hydrates the skin, enhances the immune system, and alleviates inflammation caused by dryness and eye puffiness. The ingredient has also been observed to stimulate collagen synthesis and enhance skin elasticity; these properties make it an ideal ingredient for combating wrinkles around the eyes.
Kojic Acid is a dermatologist-approved ingredient for reducing hyperpigmentation and discoloration. Derived from mushrooms, Kojic Acid is known for its remarkable ability to fade existing sunspots and photodamage when used regularly. A study demonstrated the effectiveness of Kojic Acid in lightening the skin when used regularly. With 98% purity, ATTDX Caffeine EyeDepuffing LiftingCream provides direct and profound effects on your skin, promoting a youthful, radiant complexion.
Kojic acid is often used topically to treat a number of different cosmetic conditions. It's been approved for use in cosmetic products in concentrations of 1 percent or less. It's most often used as a skin-lightening agent. The Cosmetic Ingredient Review Expert Panel decided that kojic acid is safe to use in cosmetics in concentrations of 1 percent.
Caffeine is a vasoconstrictor, which means it makes the blood vessels constrict, or tighten. That, in turn, reduces blood flow to the skin and makes your skin look brighter and smoother — like a real-life Instagram filter for your face! "it can help with microcirculation, which constricts the blood vessels and helps temporarily reduce discoloration in the skin. Say buh-bye — at least in the short-term — to those dark circles under your eyes." Dr. Scarso says.
Research on human skin explants (cross-sections of intact human skin) has shown this ingredient can help reactive skin become less sensitive to environmental aggressors by strengthening its microbiome. Doing so encourages the skin to visibly repair itself and begin looking healthier.
International Journal of Women's Dermatology, June 2015, pages 85-89
Medically reviewed by Kim Chin, RD, Nutrition — By Ana Gotter
More of our happy customers' reviews:
"I highly recommend ATTDX Caffeine EyeDepuffing LiftingCream to anyone looking to hydrate and rejuvenate their under-eye area while reducing eye bags. After just a few weeks of consistent use, my under-eye area looks brighter and more awake, and the bags are much less noticeable. This eye cream is super hydrating and absorbs quickly without feeling greasy or heavy, leaving my under-eye area feeling soft and supple."—Lucinda Fowler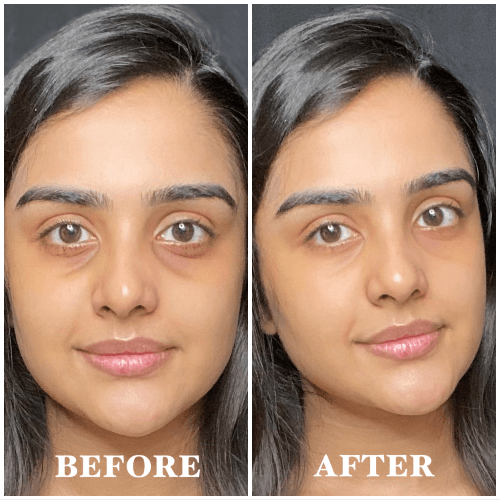 "I have never found an eye cream as effective as ATTDX Caffeine EyeDepuffing LiftingCream. The photo taken after just a few weeks of use shows how much it has improved the appearance of my eyes. I look almost ten years younger than my real age–and this is without any greasiness! I appreciate how this product rejuvenates my skin and provides a lifting effect without any side effects."—Irish Robinson 
OUR GUARANTEE
We truly believe we have some of the best products in the world. If you don't have a positive experience for ANY reason, we will do WHATEVER it takes to make sure you are 100% satisfied with your purchase. Buying items online can be a daunting task, so we want you to realize that there is absolute ZERO risk in buying something and trying it out. If you don't like it, no hard feelings we'll make it right. We have 24/7/365 Ticket and Email Support. Please contact us if you need assistance.